Helping you to improve your core strength and flexibility.
Pilates is a form of exercise that focuses on strength, movement and mindfulness that is suitable for all ages, abilities and levels.
For Joseph Pilates, the inventor of Pilates, the health of the mind and body are inextricably linked. He believed that by concentrating on the precision of movement, the awareness of breath control and a continued flowing movement, a Pilates practitioner will be able to alter any abnormal patterns of movement and achieve a carry-over effect into their everyday life.
At Oceanside Physio, our Pilates classes are conducted by  experienced Pilates instructors – who work closely together with the physiotherapists to ensure you receive the best possible care.
Under the supervision of our experienced team, we will teach you the importance of correct alignment, core strength and efficient, safe movement.
Pilates can improve your quality of life in many ways by:
Developing your core strength
Improving your posture and strengthening the muscles supporting your spine
Improving flexibility, strength and muscle tone
Helping in the recovery from injury or surgery
Improving sports performance and preventing injury
Supporting you through pre-natal & post-natal care
Reducing pain and fatigue
Oceanside Physio offers a range of Pilates and Functional Rehabilitation classes including:
Private one-on-one sessions
Duet Sessions
Small group sessions – with programs tailored to each individual
Sessions for sporting clubs & groups including cycling, rugby, triathlon and swimming.
Oceanside Physio is located in the Pulse Oceanside Medical building, which is equipped with shower facilities, making it easy to attend classes before or after work. The Oceanside Physio studio is purpose-built and equipped with the latest state-of-the-art apparatus including:
Reformers
Cadillac or Trapeze Table
Wunda Chair
CoreAlign
Auxillary equipment including foam rollers, baby barrels, weighted balls, Pilates rings and soft balls.
The Reformer, Cadillac and Wunda Chair are the traditional pieces of Pilates equipment designed by Joseph Pilates. This equipment allows for resistance to be added to your exercises through the use of springs that form part of the machine. Various attachments increase the range of modifications that can be made to the exercises to allow a broader range of exercises – beyond what can be done on a mat.
We will ensure that the exercises prescribed to you are suitable for your body's needs and goals, as well as offering variety and versatility to each session.
We believe that it is essential, for every person wishing to attend our Pilates sessions, – whether new to Pilates or the clinic – have an initial comprehensive assessment. This will enable us to clearly define your needs, address any problem areas or injuries that may impede or affect your movement and enable you to exercise safely with optimum results.
This assessment – conducted by a physiotherapist or qualified Pilates instructor – will generally take 45 minutes to one hour and will include an introduction to the studio, so you can derive benefit from the very first session.
Healthcare rebates may apply for initial assessments conducted by a physiotherapist. Pilates classes are not rebatable by health funds.
Oceanside Physio does offer exercise sessions that focus on Clinical Core Strength and Functional Rehabilitation. These sessions are run by a physiotherapist and exist to cater for individual rehabilitative needs. Provided the criteria of regular reviews and goal setting are met, rebates may be provided by health funds.
More information about Payment Options & Rebates can be found here.
Pilates Classes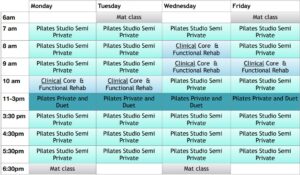 "Studio Equipment Semi Private Group Sessions"
Our Studio Equipment sessions offer individualised, tailored programs based on your goals and assessment requirements. Group sessions are limited to a maximum of 5 people enabling the instructor to offer you a comprehensive and holistic class.
This category is suitable for all levels and is the best option for those with ongoing injuries or conditions, pre and post-natal and rehabilitative needs and gives you the opportunity to experience the benefits of our full range of studio equipment including:
CoreAlign
Reformer
Cadillac or Trapeze Table
Tower
Wunda Chair
Spine Corrector
and other small equipment.
Book now
Mat Classes
These classes take you through a series of exercises from the Pilates method designed specifically to be performed on the mat. This class is suitable for all levels of ability, however, it is not suited to those with injuries or rehabilitative needs.
Experience a variety of classes including:
Fit Ball Master Class
Ring Class
Exercise Band
Foam Roller.
Circuit Classes
These classes combine all the studio equipment (CoreAlign, Reformer, Wunda Chair, Cadillac and Tower) with mat work, to offer a fun, dynamic workout. The same repertoire is repeated for 4 weeks to encourage improvement and perfecting of technique.
Two variations of Circuit Classes are offered:
Circuit Strength & Balance
A moderate-paced class focusing on improving the strength of muscles critical for posture, co-ordination and balance. This class is suitable for all levels of mobility especially mature-aged clients looking for improvements in bone density, joint pain and movement limitations.
Circuit Fitness
A faster-paced, energetic class offering an intense full body workout. Perfect for the seasoned Pilates practitioner – although new clients are always welcome with some modifications required to ensure safety and enjoyment.
We also offer a variety of group classes developed to cater for a range of experience and abilities.
Book now
This class is delivered by a Physiotherapist and offers individualised tailored programs. With a maximum of 5 people in a class we are able to ensure that you receive the care and attention you need. This class is suitable for all levels and is most suited to those with specific injuries or rehabilitative needs.
Book now
Your body goes through so many changes during pregnancy, so it is important to do everything you can to stay fit and flexible and lay the groundwork for your life post-baby, so we offer two specialist Pilates classes for new mums and mums-to-be:
Pre-natal or Pregnancy Pilates
Whether you have done Pilates prior to your pregnancy or not, this is a fantastic way to exercise and stretch your body safely during your pregnancy. We incorporate a series of floor, seated and standing exercises using our range of Pilates equipment. Our focus is to improve the strength and function of your pelvis, pelvic floor and core muscles, and your whole body in preparation for your delivery and beyond.
These specialist classes are run by our experienced Pilates instructors and physiotherapists.
Post-natal Pilates
When you start exercising again after childbirth, the type of exercise you do is important in helping to reduce the risk of long-term pelvic floor weakness and pelvic organ prolapse. With this in mind, your post-natal Pilates class will be supervised by one of our trained Physiotherapists, ensuring you are exercising correctly and safely.
Book now
The Pilates method is now widely-recognised within the medical, scientific and allied health community as offering an effective and safe form of rehabilitation and injury management.
Recent studies have shown that it can also offer safe and appropriate exercise to address balance, gait and muscle function disturbances often seen in neurological conditions.1
Oceanside Physio offers tailored Pilates classes specifically for people with neurological conditions including Parkinson's disease (PD), multiple sclerosis (MS), stroke and acquired brain injuries.
Pilates
Our Pilates Instructor:
We are adding new classes and times to our timetable regularly, if you don't see a time that is suitable for you please contact us.
If you would like more information regarding classes and times please complete this form:
References:
Rodrigues et al., 2010; Putrino et al., 2013; Smith & Smith, 2005
Siqueira Rodrigues, B. G., Ali Cader, S., Bento Torres, N. V., Oliveira, E. M., & Martin Dantas, E. H. (2010). Pilates method in personal autonomy, static balance and quality of life of elderly females. Journal of bodywork and movement therapies, 14(2), 195-202.
The effects of supervised Pilates training program on balance in Parkinson's disease. Johnson, L., Putrino, D., James, I., Rodrigues, J., Stell, R., Thickbroom, G. and Mastaglia, F.L.(2013). The effects of a supervised Pilates training program on balance in Parkinson's disease. Advances in Parkinson's Disease, 02 (02). pp. 58-61.
Smith, K., & Smith, E. (2005). Integrating Pilates-based core strengthening into older adult fitness programs implications for practice. Topics in Geriatric Rehabilitation. 21(1). 17-67
---
For more information on our other services please see the following pages: